My first layout as a Guest Design Team member for
Creative Craft World
- and I choose to scrap a picture of me in a bikini!!
The theme this week is 'circles'.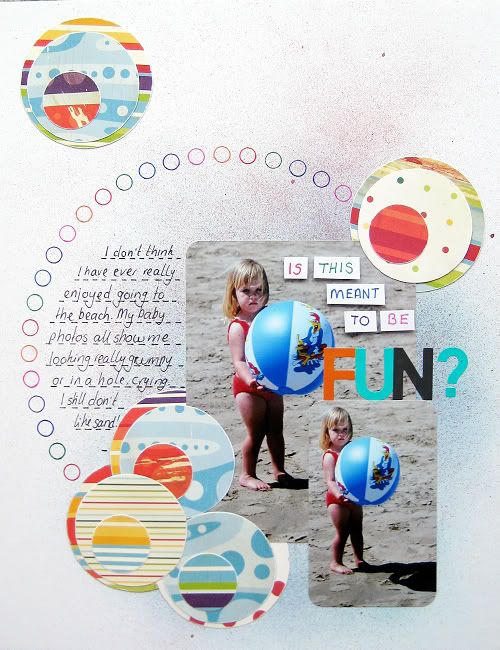 Oh yes, don't I look miserable! I never really grasped why going to beach is a fun thing to do. Sand gets everywhere. Of course, now I go to the beach, turn my back to sea and study the geology of the cliffs. Much more fun than beachballs. Although, I suppose I'll have to take my baby to the beach at some point. Maybe I'll suddenly discover the fun?
This is the very last of my Cosmo Cricket Snorkel paper, had so little that I punched the smaller circles from the larger ones and teamed it up with Cosmo Cricket Garden Variety to make it go further.
I Distress Inked the background with Broken China and Faded Jeans, then Glimmer Misted over the top. Still a bit of a newbie when it comes to Misting, but I'm pretty happy with how this came out. Doodled on the circles (yes, I cheated and used a Template!) and the journalling lines.