The theme this week at
Creative Craft World
is one landscape photo.
Oh, good grief! This happened last week! I need a photo in a size that I haven't got and can't get. Well, I was all ready to chop down a 6x4 picture to make it more landscapey, when I realised that I always panic without thinking things through.
In the 1990s I had a camera that took landscape photos alongside normal photos (and another size that I can't recall). I wanted that camera. I loved that camera. My Dad said it was a silly camera and eventually I'd not be able to get the film for it or the novelty would wear off. He was right, of course! But before I gave up on my expensive toy I did take some landscape shots. I've not scrapped any of them before as I only have one copy of them and
no
idea what happened to the negatives.
So, here's my first layout using a truly landscape photo: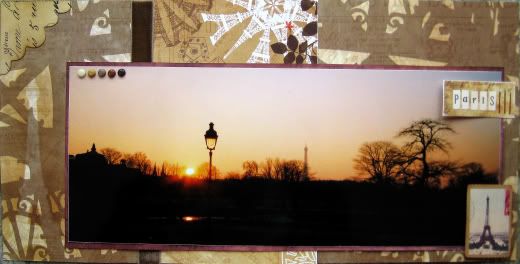 I pushed the landscapeyness even further by making it a 6x12 layout.
Almost chose a landscape shot of Grand Canyon, but I'm still loving my shiny new Rouge de Garance Gustave papers and as they feature architectural elements of the Eiffel Tower and this photo has the Eiffel Tower in it - small, but it's there - I had to go for this.
Then I went a little Eiffel Tower crazy! Used a Prima mask to add a little Distress Ink (Vintage Photo) tower to the left side, although it doesn't show up well in real life, let alone this photo and also a little piece of the Parisian ephemera that comes with the K&Co Maison paper pad.
It's very unlike me to mix Paper Companies on on layout. I do try, but I have a habit of keeping them together, so mixing K&Co with Rouge de Garance is quite startling!