The first couple of layouts using the latest
Quirky Kit
. Another one is on my desk for this afternoon. I'm enjoying my plan to get a layout a day done while I still can.
I decided that the best way to get started was to attack the kit as much as possible and cut into as many bits of it as I thought I might need. Otherwise I know what I'm like, I'll just use ordinary rectangular pieces because I don't want to muck up the patterns.
Knife in hand I cut out the detail from the
Good Living
sheet, it was just crying out to be cut into, so I did. The signpost part I've lifted up on foam squares and I decided that I needed to make one of the signs point towards Olney! Even (reluctantly) used one of the adorable resin birds.
I was on a roll by this point, so I made up some flowers with
Red Tomato
,
Charme
,
Brooch
, some netting and one of the AC
rose brads
. The kit came with two sheets of Kesi'Art alphas, so I used some from both packs, rather than hoarding. The black and white houndstooth is material, which makes the layout rather touchy-feely in real life. I stitched that on at the bottom to keep it in place.
My parents took me to Wicken Fen in February for some exercise. Almost didn't happen as it turned out my Mother had left her wellies and walking shoes at home. However, a nice man from the National Trust told us that it was possible to reach the first Hide on the new, mud free, boardwalks. So we were able to go birdwatching and look at squirrels.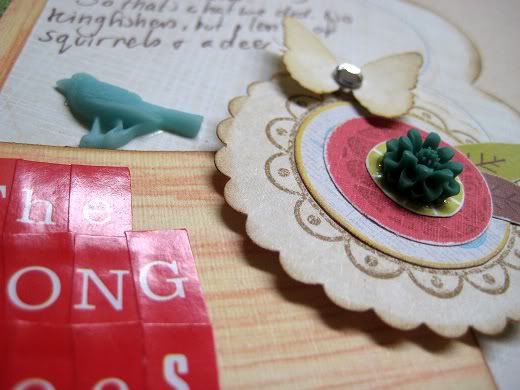 This involved more attacking of the papers!
I cut the Webster's Page
Die Cut
in half, cut out a few of the circles from
Amazing Views
and
Epicea
and used the woodgrain side of
Bouleau
. Stampin' Up
Circle Circus
on the flowers, one of the resin flowers and the last resin bird - yay me for not hanging onto it forever.
Right. Time to go work on another! I want to use up some of the Cosmo Cricket material today, it's the
Sunrise
pattern from Early Bird. Yum!