I've given up trying to get decent photos without PSP, so these are just propped up on my desk, complete with scruffy desk backgrounds.
When this picture was being taken I knew the layout would have to be called "Tosser" ~ sorry Sue!
We were lucky enough that our Retreat fell on Pancake Day, so Susi bought ready mixed pancake batter and we all had a go at making pancakes. Sue was the only one brave enough to actually give pancake tossing a go and it worked!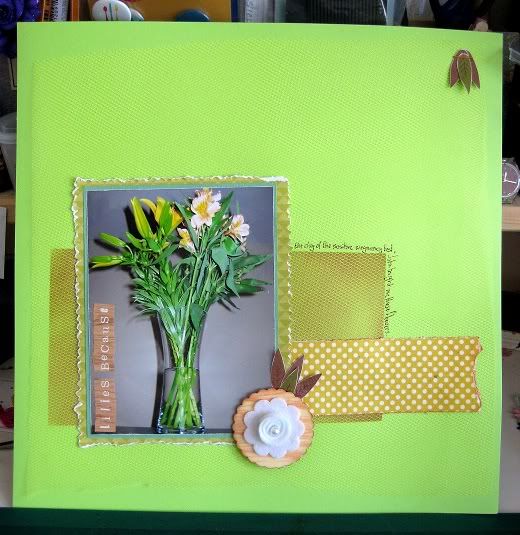 These are the flowers that John bought for me the day we had a positive pregnancy test. Seems like five minutes ago and now I only have days left!
I used netting on this, thinking that it might tone down the brightness of the cardstock, but it didn't! Still, the photo had come out in very bright green and yellow, so it probably doesn't matter. Inked the CS using a technique I found in the free
Craft Stamper ezine
, which has worked, but left me with a large pile of inky post-its.
Fun though!