Hot on the heels of me thinking that my mini book skills aren't up to scratch I decided to make a Maze Book! Glutton for mini embellishment punishment, obviously. I do love the folding, cutting and sticking that goes into a Maze Book though, so I enjoyed putting this together.
This one I've made to try and get some of my baby / childhood pictures scrapped before

my

Baby arrives and I end up just scrapping him instead.
I've had to take the photos with a cushion on my lap as I'm stuck to the sofa today with my oversized hippo feet up on a stool. They aren't happy tootsies today. :(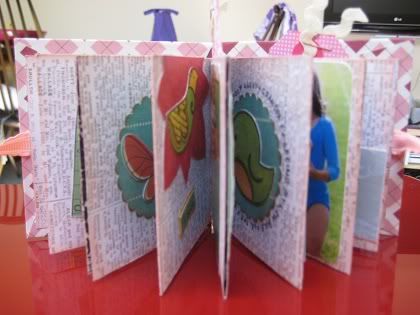 I've used
4 Heures 37
papers for the covers and Echo Park for the insides.
I've not written on the tags yet, there are a couple of pictures that I want to ask my parents about first, then I can do some more journalling. There's plenty of slots of I want to add more as things occur to me.
I used to be cute! What happened?! I'm playing with my toy helicopter, although I always called it a "helicopterdopter". I think that butterfly may need some work, it's a bit plain.
Stamping and ProMarkering fun. I don't do much of that, but yesterday I realised that I
do
have some bird stamps and thought I should include them in the Kit.
A Basic Grey June Bug bird stamp.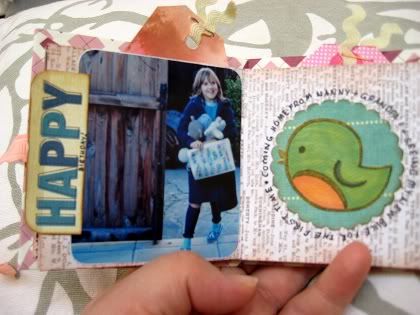 Coming home from Nanny & Grandpa's on my birthday and seeing my new bike for the first time. My father took this reaction shot, but I don't have any pictures of the bike.
Another butterfly that needs a bit of bling - and me in a leotard! Horrors!
Hurdles. In the photo it's vaguely possible to see the frightening second year teacher, Mrs Hoyle, and the lovely Headmaster, Mr Davies.
In the swimming pool on the last day of a holiday in Spain. I swallowed too much pool water and spent the entire flight home being sick. It wasn't the greatest experience.
There. Fuzzy, but photographed. I think I could do with a nap now.