This is my first time submitting to this challenge site and it looks like fun! I've been wanting to scrap this for a long time, well, not the picture, but the quote. It was such a memorable part of our Road Trip that I knew I'd have to eventually, but scrapbooking has always come across as so sweet and innocent that I wasn't sure I really should be using the F-Word... *horrors*!
Of course, that's crazy. Scrapping is a personal experience. I could have created this layout, put it in my album and never shared it online. Then my Teamie Sue posted the link to the Gutter Girlz and I realised that actually I can scrap what I please and can even show it off!
So, here's my entry for
Prompt #35
. I've used the Prompt - Road Trip, and the Product - a Map. I've not used the song as I don't know it and it won't play from the GG website here in the UK.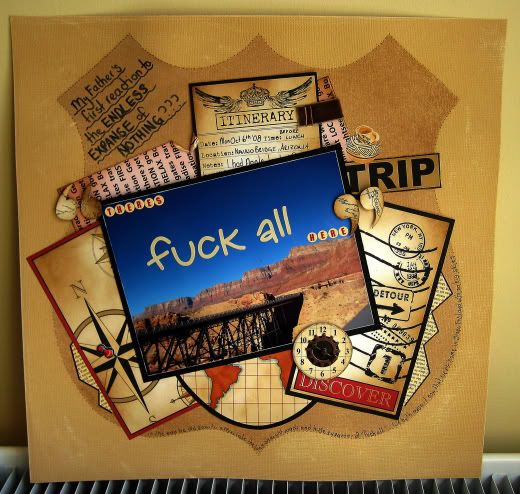 Let me point out that my father doesn't swear, which is why him saying this was so funny.
We'd travelled from Vegas (you know, crowded, buildings, lights) and were on the way to Mesquite. This involved going through a large expanse of nothing. Big skies, endless desert, hills that were pretty much mountains and long straight stretches of freeway. There'd been an hour or so of this when my Dad comes out with his now-classic "There's fuck-all here!"
To be honest, I think he was bit worried that we'd be stuck for two weeks looking at nothing!
Of course, we then detoured through the
Valley of Fire State Park
and that was that. There isn't fuck-all there after all, you just need to learn to appreciate the desert for its beauty.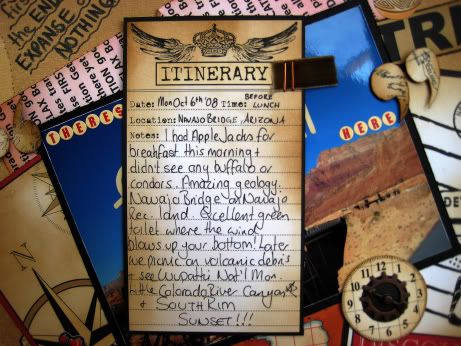 The photo is actually Navajo Bridge, so I've journalled about that rather than about the Valley of Fire, but it symbolises big skies, desert, etc and shows that there are things to be seen in the desert after all.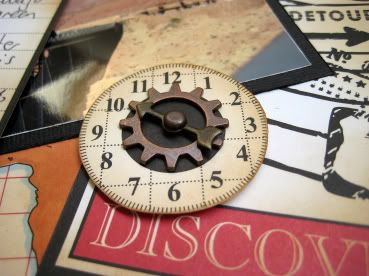 It wasnt until after I finished this layout that I realised that I have blatantly scraplifted Gutter Girl Susan! I must have seen it, registered it and forgotten all about it. Sorry about that, Susan.
:(