I've been stroking this paper for a while, but it was time to take the craft knife to it.
Two photos stuck together so that we're sat side by side on the train with the Giraffe in the middle! At the last minute I remembered to stick the ticket onto the layout. I'm very good at keeping stuff and thinking "when I scrap this event I'll use this ephemera" and then forgetting all about it. I have
loads
of bits in folders, but all the good pictures have been scrapped. :(
Still,
this
time, I remembered!
I'm about three weeks pregnant at this point and paranoid about everything, but the sickness has yet to attack. I look happy rather than queasy!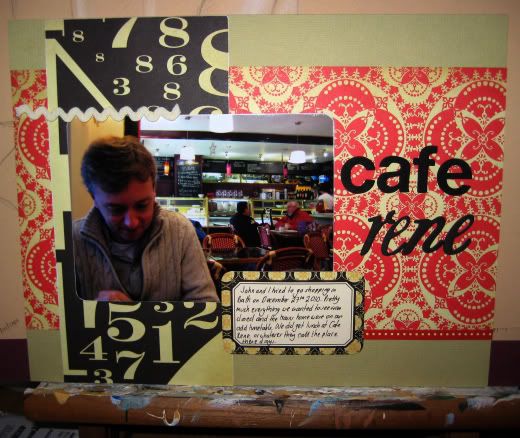 In Bath on December 27th. All the shops we wanted to see were still closed after Christmas, so we ended up just having a nice lunch in Cafe Rene. At least, it
used
to be called Cafe Rene and isn't anymore. Can't think of its proper name!
Both are very loosely based on layouts in the first PageMaps book.