I used a PageMap sketch from the first book for this. Suddenly occurred to me whilst trying to use up older stash that I really should scrap the picture of bees with the Garden Variety papers that feature bees. Yep, obvious.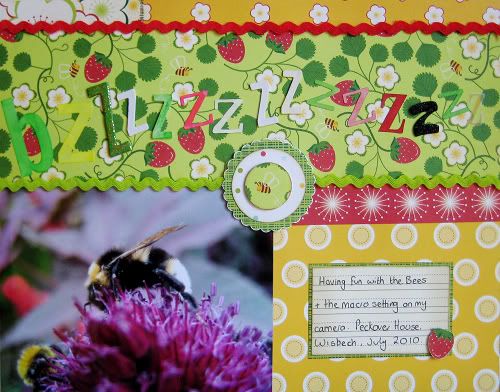 Also a good way to use up all those left over Zs that I had lying around.
Our Team has just finished a
12 Days of Christmas
swap and I wanted to use the goodies that I received (thank you, Sarah!) right away, rather than filing them away in my paper box.
I'd never seen glossy cardstock before and it would have been way too easy to just keep stroking this, but I've been brave and cut into it. Same goes for the paper, the little flowers, butterflies and leaves were just begging to be cut out from one side of it - so I did.
Being a bin-diving paper hoarder, however, I did have to punch out extra scallops, butterflies and flowers from the left overs, so I do have some odds and ends to use up. I also gutted the cardstock as I couldn't bear to leave such a large chunk of it covered up.
Also managed to use a bunch of brads, which I seem to collect and never use, and a Maya Road chipboard strip that I've had for ages and never used. Probably because I got them in a kit in the days before I discovered inking and glimmer misting.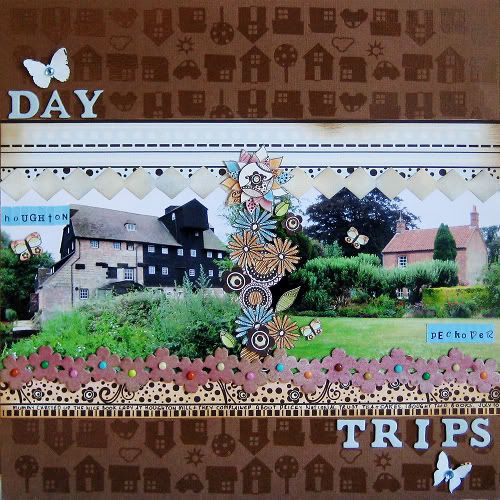 Houghton Mill and Peckover House. Day Trips that I went on with the Parentals last July when John was on a jolly (I mean, working...) in the States.
A couple of layering close-ups: