This time the challenge was "
White
", so it just had to be Frosty Mk 1. Although, at the time the photo was taken he was just "Frosty" as Mk2 had yet to be created. I've been thinking about experimenting with inking techniques and was under the impression that in order to get that splattery/inky effect you had to use inks in a mister.
Obviously I wasn't thinking it through, and my Teamies were quick to point out that paint on a toothbrush would achieve the same spattered result. This layout features my first attempt to toothbrush spatter acrylic onto a layout - just don't tell John that I stole some of his posh gold acrylic to do it with (and to paint the snowflakes and some of the paper edges...), really should get some of my own!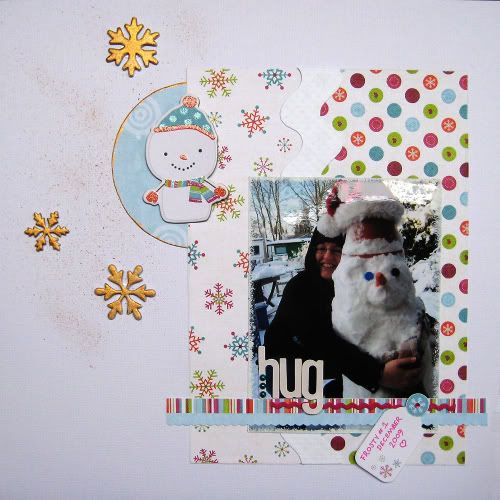 It doesn't show up terribly well as I was a bit nervous about really going for it and coating my entire crafting space in gold speckles, but text time it'll be more dramatic.