I've decided to try and combine some other challenges with the Weekly Challenge that is set on UKS and to not stress too much about getting the WC (as we call it) done fully each week. I usually try and cover all the bases to get the points for the Team, but I often end up with layouts that I'm not 100% happy with.
So this is the first of the combined efforts and I've combined with
Sketchy Thursdays
! I'm still not 100% happy with it as I decided to use my own handwriting on it (to make a difference, to not keep using up those darned pricey alphas...) and I've never liked my handwriting. Still, makes it unique!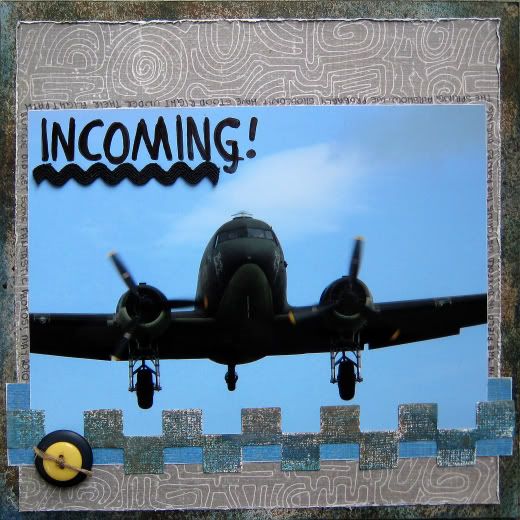 I am happy with the background paper, however, which started off as an 8x8 piece of white that you get slipped into page protectors in new albums. I abused it with stamps, Distress Ink (and Reinker in a spray) and then some more Distress Ink. Then I covered it all up with the Crate Paper! Oh well, it was fun and very messy.
This is another photo from Duxford last month where Daddy and I were stood under the flight path with all of the other crazy fools who don't want to fork out the money to go to the display properly. This plane was so close its wingtips didn't fit in the shot...