The WC for last week. It was a close call getting it done as my Parentals had been visiting in the week and I almost forgot to do it. Still, that's what lazy pre-baby Sundays are for - scrapping! Getting it scrapped doesn't necessarily equate to getting it photographed, but here it is: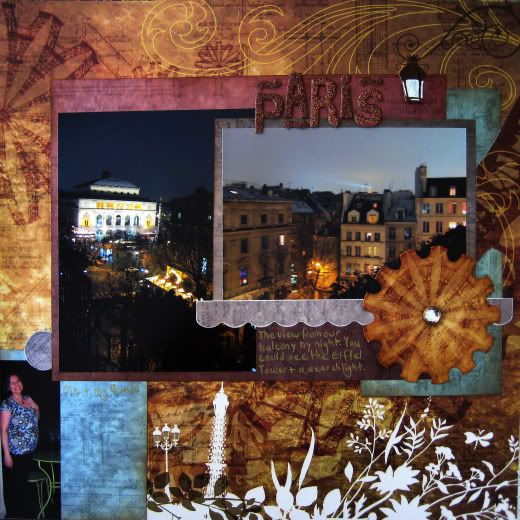 This week the instructions were as follows;
At least 3 pp's - done, I actually used four of my new Rouge de Garance papers.
Border punch - done
Multiple photos - done, using three pictures is quite a lot for me.
I love these papers and spent ages trying not to cover up some of the details that were underneath once the pics went down. So I did my usual trick of gutting the paper, which meant I could use the details of Eiffel Towers arranged into a cog as an embellishment. Also cut the paper so that the lamp showed up and the tower leg could overlap.
Used Glossy Accents on the lamp, but then John pointed out that the light should really be white, so I painted it. He was right, of course, looks much better white!
The photo on the right shows (sort of) the searchlight on top of the Eiffel Tower.