I actually didn't do this layout with
The Studio
challenge in mind, but could've sworn I'd seen a challenge recently which involved scrapping an event that had no photos.
I went ahead and made the layout on Monday. This afternoon I suddenly realised that I hadn't updated the new link to The Studio blog, so it wasn't coming through correctly on my feeds reader. That's when I realised where I'd seen the challenge before... luckily the deadline has been extended to May 9th, so I'm not too late to enter this.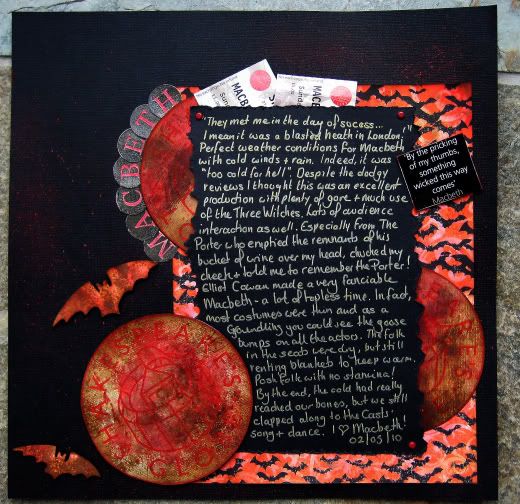 I've used a bit of Halloween paper, as well as cutting up and distressing the paper bags from the gift shop. Then I included the tickets from the performance and a little tag that I cut up that was attached to the bag I bought. The background is red-spattered (but that might not show up well in the picture)which echoes the blood-spattered set.
Funnily enough, the three Witches were wearing distressed versions of the aprons that the Globe staff wear. It has the same logo on that you can see on the distressed paper bags on my layout. Well, I was amused by them.
I've never done so much journalling before I can see how wonky my handwriting is!
Also using this as my May inter-team mojo challenge entry - reusing and recycling. Plenty of that here!