I do keep making layouts for challenges and never seem to make them just for myself. The Paperclipping Roundtable seems to think that this can sometimes be bad for your personal creativity, so I've made up a few that aren't sketch based. I'm also loving 8.5 x 11 as a size at the moment, not that I have any albums of this size, I just like the rectangularliness of it.
This first one is Melman at Risby Barns in April. John took the shot of me standing by this giraffe print, Puppet on hand, looking silly. Not one person looked as us and the cafe was packed. Oh well, so much for being embarrassed.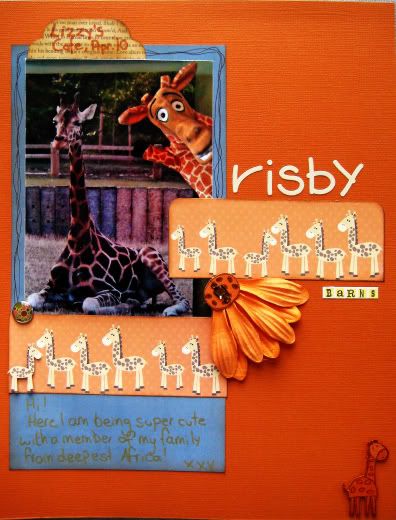 I bought
a piece of Three Bugs paper
on purpose as it had giraffe and lion strips on it. I've already used the Lion strips. I took some elephant pictures earlier this month, so now I have to keep hold of the elephant strips! First use of my new giraffe stamp.
This next one is another of my old pictures from the hot air ballooning days. This was taken on a trip to France, we'd landed in Farmer Lambert's field and they invited us it for coffee and a drink (it was about 10am, time for a Mirabel).
I was penpals with the girl in green for a while. The farmer kept his guns in the downstairs toilet and the fly papers were so full of flies that they were fighting to get a leg on. Good fun had by all. :)