The local cheapy shop is suddenly stocking a whole bunch of American Crafts products and on Saturday I bought myself one of their albums that came with some of the
Travel
range. This is one of the lines that I bought pre-Road Trip so I'd be ready to scrap it when I came home. I'd actually run out of it, although I'm not the biggest fan of AC papers, so I thought some more wouldn't hurt.
Of course, it's the cheapy end of their ranges and is single sided and thinner than the papers I originally bought. This makes me want to pop them away and ignore them! So I've attacked them straight away and done a couple of layouts from them using as -yet-unscrapped Road Trip photos.
This first one is for
Sketchy Thursdays 5.6
-
The Scenic Route
.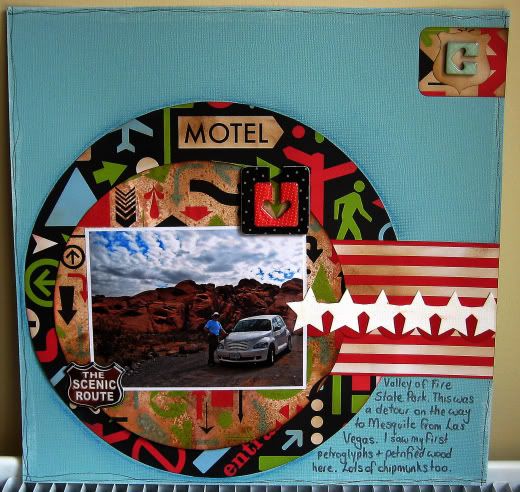 Valley of Fire State Park, Daddy and the beautiful hire car!
I then went right outside the box with this one for
The Mill Pond's
latest Write It Challenge. The task was to
incorporate your title within your journaling
and
try something different with your title and or journaling that you personally have not tried before
. Well, I've certainly done that! I've never done such a large title and I've certainly not stamped and cut out such a lot for a title before either. My journalling is between the lines of the title: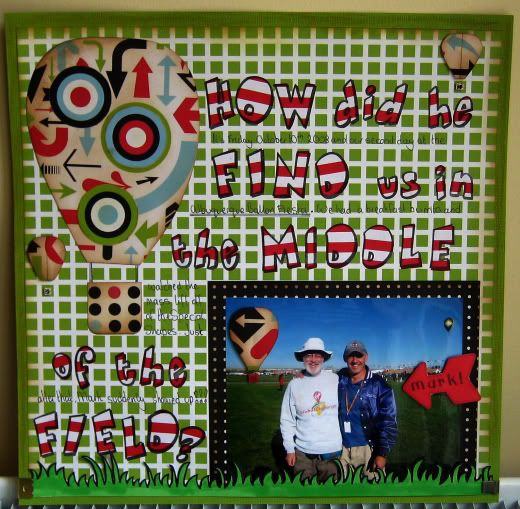 I'm not happy with the large balloon, but I'd stuck it down before I realised that I should have folded a piece of paper and just done half a balloon (like paper dolls). I rectified that for the tiny balloons and you can see the lines up their middles! I do enjoy making that grass, although it is time consuming.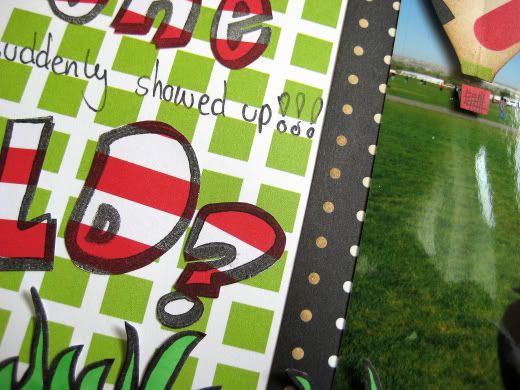 A close up so you can see the journalling / title / grass and balloon.
I'm not sure the journalling is visible in the picture, but the gist of the story... Mark is a friend of my Dad's and we knew he'd be at Albuquerque for the
Balloon Fiesta
. We hadn't arranged to meet up, but after the mass ascension on the second day we were there he just found us on the field! It's a BIG place and it was
amazing
how he managed it. A little bit of home in the middle of America.
Official 2008 Balloon Fiesta Gallery
.



EDIT

: I won!