Wow! I actually did a layout because I wanted to rather than doing it for a class or a challenge. Obviously I want to do all the layouts I make, but I always seem to be catching up wth the things on UKS (especially now in Cyber Crop season!) and at the Scrummy Stash Cafe. Anyway, this is yet another layout for my Road Trip album.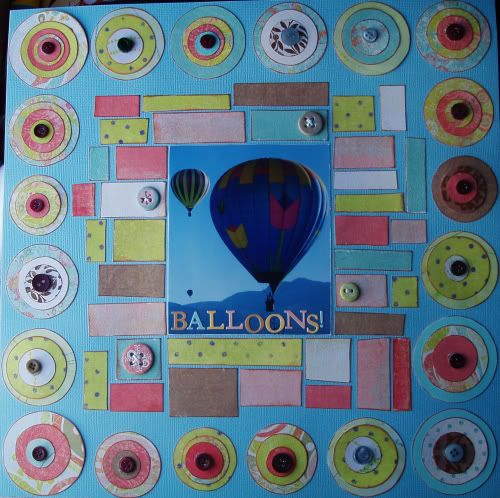 When I saw this balloon I knew it was just asking to be scrapped and this was the best shot that I managed to get of it - they don't all fly into perfect positions, sadly!
The plan with this was to use up as many of the bits and pieces that I had left over from buying kits which had a lot of Crate Paper,
Blue Hill
in them. There are a couple of other papers in there, but it is mainly Crate. All I have left now are a few chipboard flowers and some die-cut embellies - they take up a lot less space. :)
I need to try this trick with a few other collections that I have.
Then I made this to add to my Recipe Collection: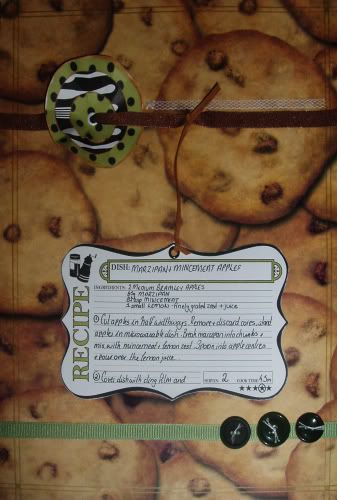 I've been wanting to use this cookie paper for a while now, but couldn't think of a decent cookie recipe to use - so I haven't. This is a recipe for Marzipan & Mincemeat Apples. It's very simple, and probably will only be used once a year when I have leftover mincemeat to use up, but now it's scrapped and to hand in my recipe album.
It's also yesterday's entry for the UKS Cyber Crop Daily Challenge - to use eyelets. This features a couple so I'm counting it. :)