I've recently signed up to
Shimelle's
Hitchhikers Guide class at
Two Peas in a Bucket
. This meant that I started looking at the Two Peas forum a lot more last week than I have been in the past. I'd kind of dismissed it as an American Shop rather than a Global Forum and had stopped visiting. However, I find the forum there and the work posted to be a lot more inspirational than UKS. Expect I'll be hanging out there a lot more in the future. Last weekend was National Scrapbooking Day in America, but they kindly threw it open to the rest of the world! I even managed to get some layouts finished. Both of these are from Shimelle's Starting Points, and tie-in with the Hitchhiking class and one of them also counts as an NSD challenge at Two Peas.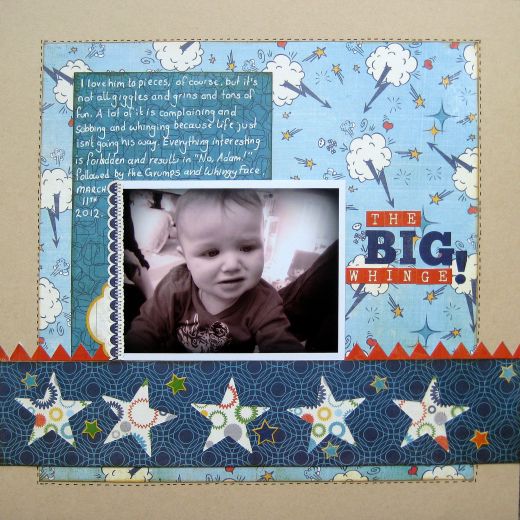 This layout is also for the challenge - negative space. Now that it's done, I realise that I should've lifted the top layer on pop dots to make it more obvious that the stars aren't punched and laid on top, but are holes with the paper underneath showing through. Ah well. I've learnt that lesson and can use it in the future. Of course, this is now making me lust after the Martha Stewart punch anywheres, do I need two classic butterflies that do different things? I think that maybe I do... Anyway. The layout is Adam, whinging!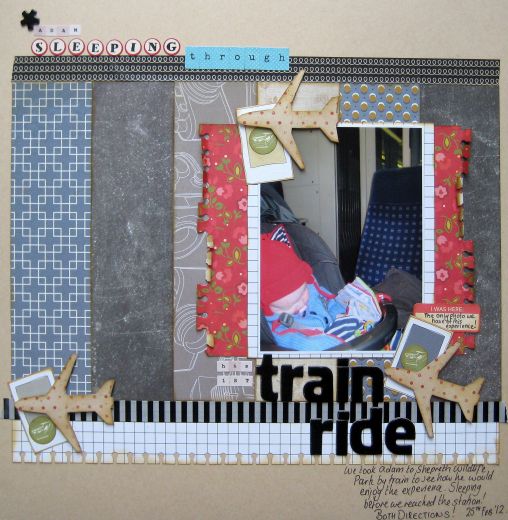 This one is just a Starting Point. It records Adam's first train ride and the fact that he fell asleep during it (and during the return trip). I used the planes as a travel theme. I don't have train embellies, but the planes are cut from a Glitz paper in the current Quirky Kit and a recent Glitter Girl video was about travel papers being used for other things, so I think this works. Otherwise I'd be hanging onto the paper forever waiting for a plane theme to crop up!