Did a spot more scrapping. Matching set, or should that be Companion Pieces? Yeah, that sounds artier! Used some new MME that I bought rashly in a sale. Been buying way too much stash in rash sales and then hoarding it because I have to time to stroke it, let alone scrap with it.
Anyway, I managed to get three layouts in a row done. I think it's easier to scrap a lot at a time once that first one is done, gets quicker.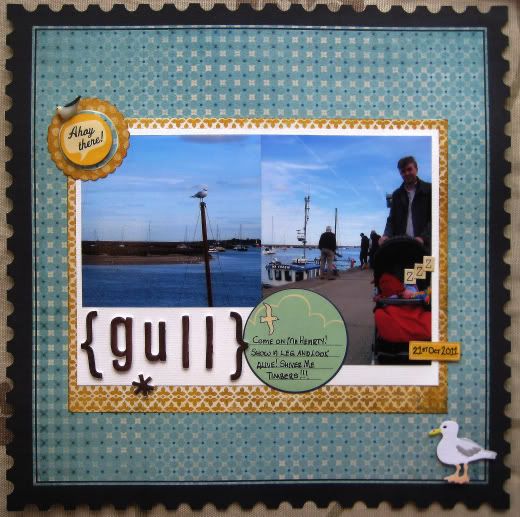 Adam fell asleep at the harbour and missed his first possible glimpse of the sea. He also missed the crabbing and the fishermen bringing home the catch.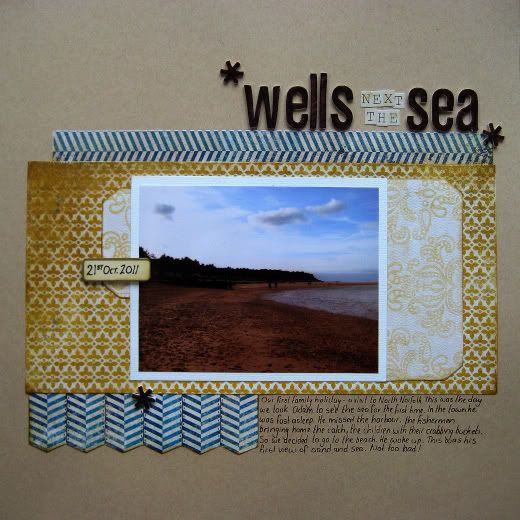 This is the first view of beach that Adam had. Not a bad stretch of beacf for your first time. As it was October it was cold and quiet, rather than baking hot with swarms of screaming kids... oh, perhaps he'd have preferred the excitement. I suppose I'd better get used to that sort of beach holiday in the future.
Finally awake and enjoying the view!
I've recently been inspired by the work of
Marcy Penner
. Lots of spritzing, blobbing, white space, using up those pesky asterisks, random buttons - beautiful.