Before Christmas I decided I would make a whole bunch of Xmas layouts all made from the same paper collection so that they'd all tie together and look good in my album. I chose
Christmas Wishes by Bella Blvd
.
Then I thought I'd get a head start on the layouts by using some of Shimelle's Starting Points. Unfortunately, by the time Christmas was over I realised that I hadn't taken many photos - well, heaps and heaps of Adam, but hardly any of anything else (like me and the rest of the family). The ones I did take really didn't match the papers AND the Starting Points weren't inspiring me.
Well, I didn't want to waste the papers or The Points, so here's what I came up with.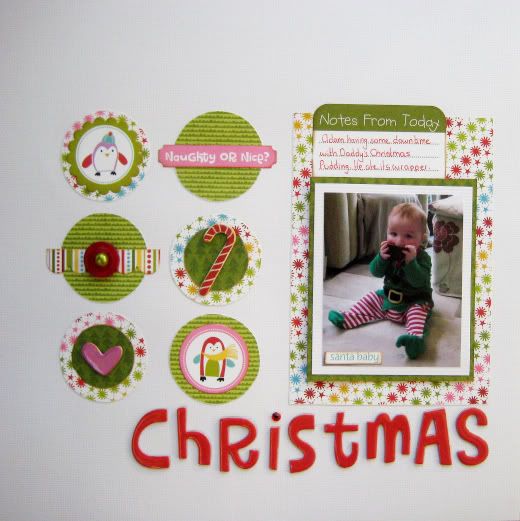 From
this Starting Point
. I GA'd all the chipboard pieces to make them shinier and more Christmassy.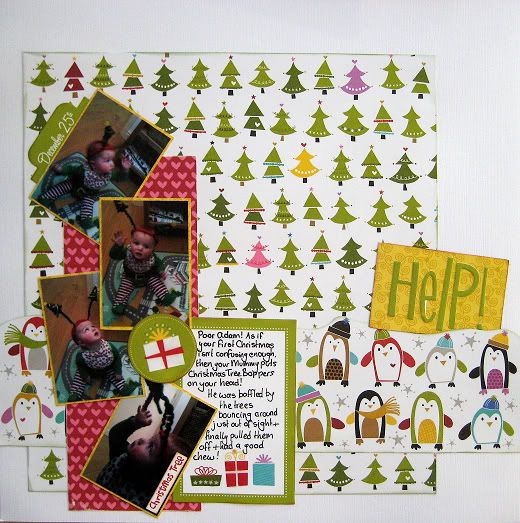 From
this Starting Point
. I shouldn't have used the strip of penguins, they were awfully hard to work with and I don't know why I inked the edges in green. What was I thinking?!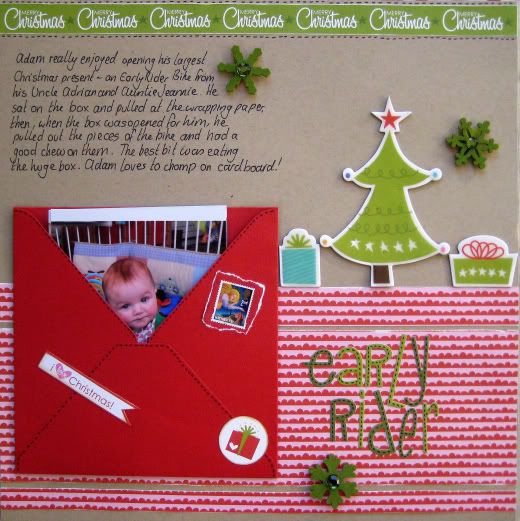 From
this Starting Point
. This one is beginning to grow on me. The envelope is from my Valentine this year! Recycle recycle! I joined up a series of Adam-Unwrapping-Huge-Present and tucked them into the envelope. GA'd all the chipboard again - needs to be shinier.
I've printed off some black and white / sepia Christmas photos to make the scrapping of them a lot easier.