Here's my entry for the latest Challenge at
Creative Craft World
. This time it was a sketch challenge, gotta love a sketch!
I've been doing a lot in 8.5x11 recently, but forgot to scale the sketch to the paper after I decided to flip the sketch! It was after I stuck the title down that I realised what I'd done wasn't what I'd planned to do, still, I like it.
My process was different this time. After spending ages colour coding my buttons, brads, cardstock and blooms they're now all easy to get at, easy to pull out the pots that match the photos... it's lovely!
I'm not going to sort my papers by colour. I'm still too much of a Paper Snob to let certain Companies mix with other Companies! But I do know what I own and what the colours are, so I pulled out all my pieces of red and green for this in the hope that I could mix them up. It didn't go as well as I'd hoped, the main papers are still both from the same collection (Cosmo Cricket -
Garden Variety
), but there is a Basic Grey rub on in there,
and
a punch from a matching paper
and
a Fancy Pants overlay that's been sitting around for ages.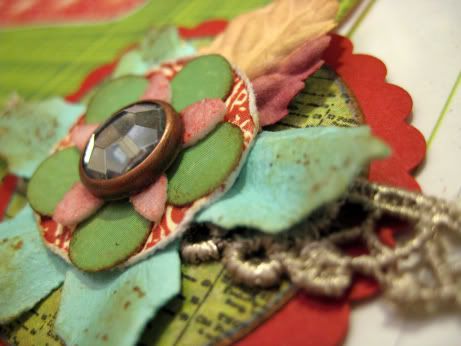 Layering! Hurrah! Thanks to
Wendy
and
Christine
I will never let an unlayered embellishment near a layout again. :) Besides, it helps me to overcome my Snobbishness and mix up those Companies. This one fetaures stash my Dad bought from a boot sale, BG Cupcake, BG Boxer, Crate Cottage, Prima, American Crafts and a flower that came from goodness only knows where!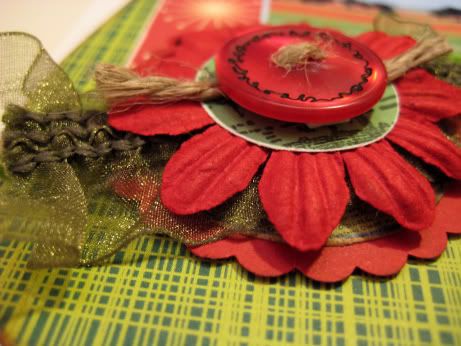 This one is my favourite. It's a shame that the Boot Sale Stash only had one piece of each item, so that's the ruffley green ribbon all gone and the red button with the doodly edge all used up. Still, must stop stroking and start using.