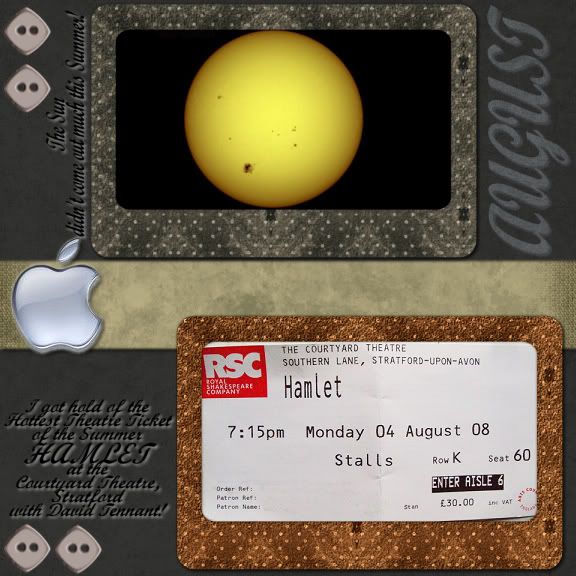 {Page 1 - click to enlarge}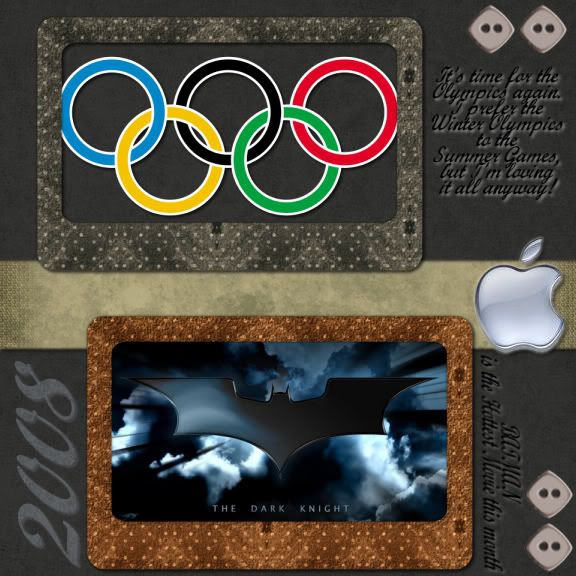 {Page 2 - click to enlarge}

I don't put digital LOs up on my UKScrappers gallery because they take up too much room and I really want all my paper creations togther in one place. So, I decided that the only way to do the challenge this week was to do it digi and put it up here!
Five things that are hot at the moment - I chose Apple (always hot, but I
so
want an iPhone and/or an upgraded iPod), the Olympics,
The Dark Knight
, my ticket to the extremely hot
Hamlet
(although it's probably David Tennant that's hot, but we weren't allowed to use people!) and finally... the Sun! The Sun is always hot, but this month we're just not seeing enough of it. :(
Something hot in Scrapbooking - as I chose to do Digi, which is all pretty new to me, I decided that the hottest thing in digi for me at the moment is making my own elements. So I've included buttons that I made myself from scratch.
No people or landscapes - done
Double LO - done (my very first deliberate attempt at a DLO in either form)